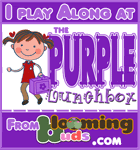 Anelys from Blooming Buds has started a new weekly food carnival. My older kids usually eat hot lunch at school, but I thought this would be a great way to get me motivated to do some FUN things with the little ones lunches at home. This is the first week of the carnival & I'm am not very prepared. Anelys took pictures each day of what she put in her daughter's lunchbox. I'm hoping to do that next week, but for this week I'm just trying for a recap of what Marissa (4) & Melanie (2) had each day.
Monday: Cheese Quesadilla, watermelon cubes (both LOVED it!)
Tuesday: Eggs & Bacon at Gramma's house
Wednesday: Whole wheat crackers w/ hummus, blueberries & strawberries (Melanie LOVED it all, Marissa didn't eat the hummus)
Thursday: Salami & Cheese, crackers, banana (an all time favorite lunch)
Friday: Leftover hamburger & rice, grapes, watermelon cubes (both ate well)
I really haven't put much thought into lunch before, I think I need to work on getting more vegetables into our lunch menu. I've got lots of saved e-mails with recipes for FUN meals to make for kids, I'll be searching them over the weekend to find some fresh ideas.